BIKE STORIES VORARLBERG
BREAKING NEWS
-----
The premiere will takes place on
April 21, 2022 in the beautiful Vorarlberg State Library in Bregenz. Further screenings (Tour de Ländle) throughout Vorarlberg are planned for June and July 2022.
The evening will be accompanied by music, small appetizers, drinks, discussions and moderation by our leading actress CLICK FOR EVENT ON FB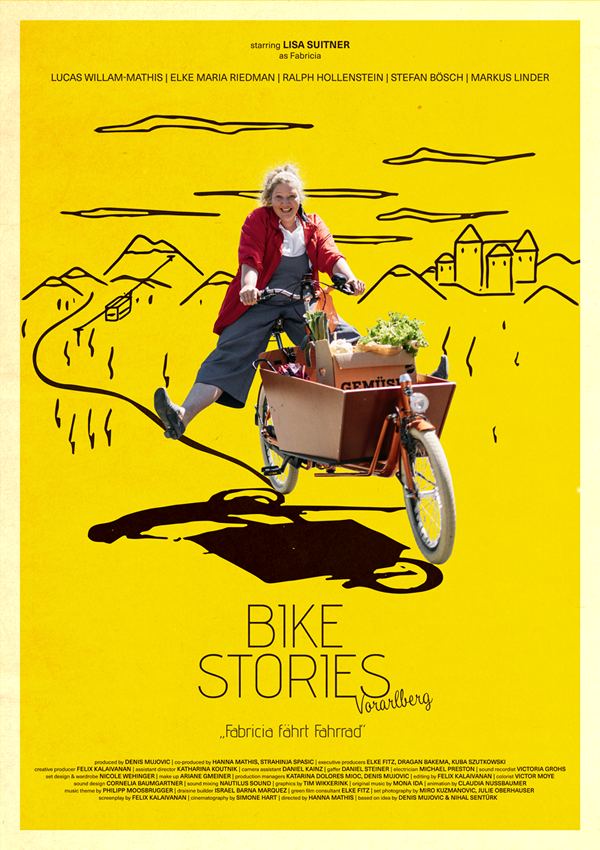 -----
The Pilot episode from Bike Stories Vorarlberg is finished and right now we are busy with the last post-production before we will premiere it with the live audience in Vorarlberg in mid-December 2021. You can follow the latest developments on Instagram and Facebook. Visit our YouTube channel for clips, teasers and soon the official trailer for the Bike Stories Vorarlberg Pilot Episode.
BEHIND THE SCENES GALLERY
(click on the picture for the full gallery on the facebook)
© Miro Kuzmanovic

SHORT SYNOPSIS

Synopsis of the pilot episode "Fabricia Rides a Bicycle" Frustrated by her dependence on public transport, the quirky Fabricia explores the historical development of the bicycle in an idiosyncratic way. During her research, Fabricia learns more about the technical workings of the bicycle, rebuilds an early model herself, and meets new friends who have dedicated their lives entirely to the "wire bike."
Season outlook On her journey of discovery through the cycling cultural landscape of Vorarlberg, Fabricia gets to know all kinds of cycling enthusiasts and realizes that the bicycle can mean not only a means of transportation but also an attitude towards life and an expression of freedom.
PROJECT DESCRIPTION
Our idea is to shoot a 5x15 minute film series that will be broadcasted as a web series, ideally as a TV series. The broader idea is to launch a cross-media project where, for example, impressive locations, exciting bike routes, shopping routes that deviate from the mainstream are created and then presented via social media channels such as Facebook, Instagram, YouTube, our own website and on partner social media channels. Finally, the routes should be available in an app. Furthermore informative events on the topic of cycling could be organized, where the film series can be shown outdoors, for example, where adventurous activities are to be offered for young people, where a broad and open supporting program may appeal to all age groups.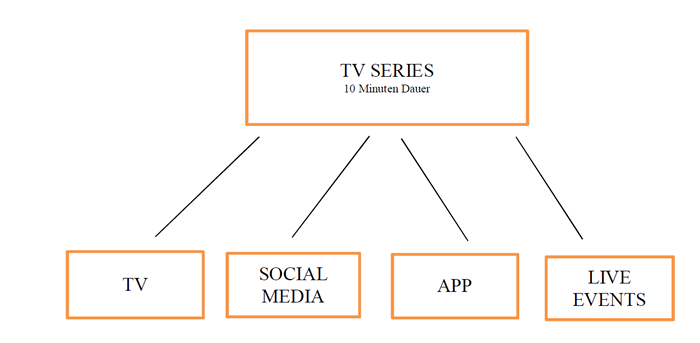 DOCU-FICTION SERIES BIKE-STORIES
Dramaturgy - mixed form of documentary and fiction. The mixed form of documentary and fictional-narrative elements offers a dramaturgical playground and great flexibility. The cheeky clown character of Fabricia offers the possibility to go beyond a classic "talking head" interview situation with real experts and to raise the interviewees to a human level with humor and inclusion, which emphasizes the conveyed expertise more strongly.
DOCU-FICTION SERIES BIKE-STORIES
The inspiration for this project comes from the Bicycle Anecdotes from Amsterdam. The idea, on the other hand, is based on the television series BOIJMANS TV of the museum 'Bojmans van Beuningen' in Rotterdam, where the authors were able to combine fiction, interview and documentary. With the Bike Stories we want to try something similar, namely to shoot semi-fictional episodes about cyclists in Vorarlberg, where informative, technical, adventure, humor, drama and educational aspects are treated, where actors and amateurs are allowed to share the stage, where we are allowed to look behind the scenes (bicycle workshop, everyday life of the letter carrier). With this project we want to address all age groups and get everyone excited about cycling, especially children between the ages of 4 and 16, for whom we aim to make cycling culture a way of life. So not only will awareness of cycling be raised, new ideas can be developed and implemented as a result, so not only the people of Ländle, but also the state of Vorarlberg will be able to benefit from it in terms of tourism, because cycling is very much in vogue and is enjoying increasing popularity.
Greenfilmmaking / Sustainable Production
"Green filmmaking simply means leaving as little environmental impact on the planet as possible during the production of your film. It's a myth that sustainability comes with a price tag, often the opposite is true."
Pathways to Sustainable Film Production:
Production Goes Green
Environmental Steward
Sustainable Filmmaking
Financial Incentives for Films
Fun Incentives for Green
Reusable Bottles
Catering Services
Go Paperless
Trash Recycling
Carpool
Conserve Energy
Digital Communications
Sustainable Resources
Creating this series also means that we will embrace the concept of green filmmaking. This means making this production sustainable and using industry expertise to achieve this goal. We have already teamed up with professionals across Europe and will be working on the details in the pre-production phase. We will also liaise with organizations in Vorarlberg to achieve this goal.
PLANNING PRODUCTION PILOT
Depending on possibilities regarding COVID restrictions. The project was supported by Land Vorarlberg for script development, LOI by Marktgemeinde Lustenau for production and award for best idea by Radkultur Land Vorarlberg. We have secured almost 1/3 of the total budget and are in the process of securing the rest. We hope that we can still shoot and finish the pilot episode by 2021.
AND WE DID!!!!!!! PREMIERE SCREENING WILL BE TAKE PLACE ON APRIL 21st! PEDAL ON FOR MORE INFO!